Stress Free Communications
" I have used Relax Telecom for several years now and always found the service responsive and helpful. The voip phones are excellent quality and value. "
David Frieslander - PIM Design
" Having recently moved our account to Relax Telecom, we have been impressed with the way in which the transfer has seamlessly taken place and especially with their team, in the way they confidently have given us advice and answered all the queries we have put to them. Don't hesitate if you are thinking of using Relax Telecom as a supplier/partner for your business. "
Ian Cook - 121 Direct mail
" I have used relax telecom for a few years now and the service is 1st class, From the ease and speed of setting up new numbers to billing. You can't fault the level of service Relax telecom strive to provide. A very happy customer. "
John Duckworth - Blue Sky financial claims
" We have been exceptionally happy with the service provided by Relax Telecom, who have been friendly and efficent in all dealings and I have no hesitations in recommending them. "
Michael Lopez - Henderson Accountants Ltd
" Since using Relax telecom my faith in telecoms has been restored! I was more interested in reducing costs then concern for quality of delivery, Relax has covered both bases. "
Will King - Sellers Griffin
" The service from Relax Telecom is excellent. From the initial discussions, implementation to ongoing support-nothing is too big or too small for these guys to deal with. At last a company that cares about its customers! "
Richard Render - Care group holdings
" We have used Relax Telecom for a number of years now and their service and support has always been impeccable. I wouldnt hesitate to recommend Relax to any business requiring telephony services. "
Chris Smith - Financial Claims Advice Ltd
" 'We asked Relax to take over our telecoms a year ago, since then it's been a breeze. Any changes we needed making were done quickly and without any fuss but the biggest difference is the reduction in price, with the money we saved we've increased our workforce. I just wish we'd moved earlier!' "
Jamie - MP advice Group
" We wanted to switch from our previous provider to update our telecoms infrastructure to a VoIP system - predominantly to take advantage of the benefits, features and flexibility that VoIP provides. We also needed to expand our whole operation to new premises. This all needed to be completed in a very short period of time, with no interruption in service. We believed that this would be an ..."
Mark Littlewood - Select Property
" Synergy Leads an MOJ regulated company have been using relax telecom for 2 years now to supply a VoIP solution for our 30 seat call centre. Part of our licence requirement is that we record all calls and have access them to them live. I have always found their staff to be very helpful which was important to us as we are not a tech company. Tony ..."
Laura Gillard - Synergy Leads
" We have been a customer of Relax Telecom for several years now and would be more than happy to recommend them. The customer service and support teams are excellent and deal quickly and professionally with everything we throw at them. No job is too big or too small for them. As a shipping company we rely heavily on our telecoms and it's great to feel confident that we have experts taking ..."
James Cross - Arbour Shipping
Case Study: Multi-site telecoms solution.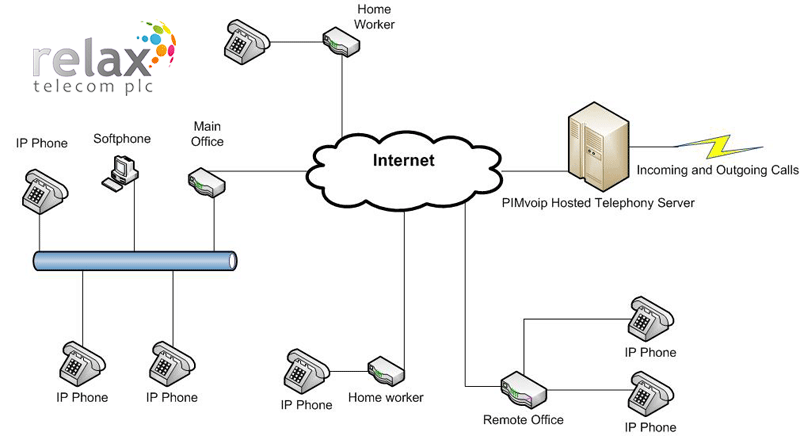 An international shipping company with multiple office and warehouse sites across the UK, as well as international agents based globally, required a solution to easily link all staff members. Traditional PBX systems based in each location was not only becoming very expensive to maintain but lacked the flexibility that this constantly growing organisation required. A hosted telephony system seemed the obvious solution.
The Relax hosted telephony network enabled all staff members, regardless of location, to be linked on one network. This vastly improved the way in which the company could deal with incoming sales and customer service calls – they could now easily transfer the caller through to any of their other UK or international offices instantly. In addition to this, the company reported a dramatic reduction in their outbound call spend, as the majority of their calls were between the companies different offices and to the agents abroad. On the hosted telephony system, all of the calls between the different sites globally became 'internal' calls and therefore free of charge.